Tokonoma
2005
Plinth, wooden pillar, Ikebana, Mies van der Rohe-MR Chair frame, metal sphere, photograph "YMOHOLYMOH#14"
Variable dimensions
Tokonoma are alcoves in traditional Japanese houses that are symbolically separated from the room by wooden pillars and ornamented with a flower arrangement and a hanging scroll. This installation takes three different components of the Tokonoma and sets them in relation to European modernism.
The plinth has the dimensions of stacked Tatami mats. A traditional Japanese Ikebana flower arrangement and the base of a Mies van der Rohe cantilever chair are exhibited on the plinth. The seat has been removed from the chair and the frame tipped forward so that the base rears up next to the flowers like a formalist abstract steel sculpture.
The pillar, made of a spruce trunk, spans from floor to ceiling and is notched on four sides in imitation of the double-T beam by Mies van der Rohe, an important element for steel frames in modern architecture.
On the wall hangs a photograph from the YMOHOLYMOH (2005) series. The photo resembles the photograms of László Moholy-Nagy, which were produced by arranging objects on light-sensitive paper. The series YMOHOLYMOH uses analog macro photography to investigate questions of dimension, shape and light.
In its concave surface, a metal sphere on the wall mirrors the entire room in a slightly distorted form; this was a favorite device for visual experiments in the 1920s.
Exhibition:
Sunah Choi, Tokonoma, Galerie Michael Neff, Frankfurt, 2005
Related work:
YMOHOLYMOH#, 2005
Text:
Vanessa Joan Müller II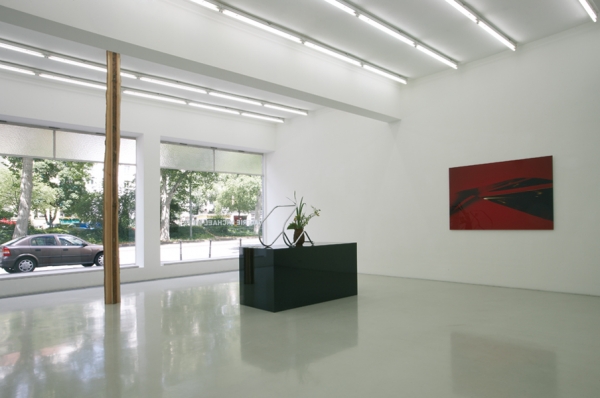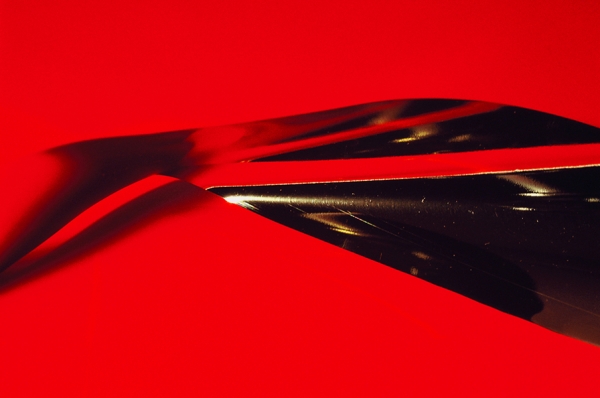 YMOHOLYMOH#14